How does it work?
By instantly transforming your pram into a calm and comfortingly dark space, SnoozeShade creates the perfect environment for the on-the-go nap of (your) dreams.

It's recommended by all the UK's leading baby-sleep consultants, because it's effective, easy to use and SAFE.

Think of it as your baby's portable blackout blind!
Air-permeable fabric safely shuts out 94% of light.

Darkness stimulates the production of melatonin, aka 'the sleepy hormone'.

The outside world is blurred, so if your baby stirs at the end of their sleep cycle, there are no distractions to fully wake them. And so, they go back to sleep!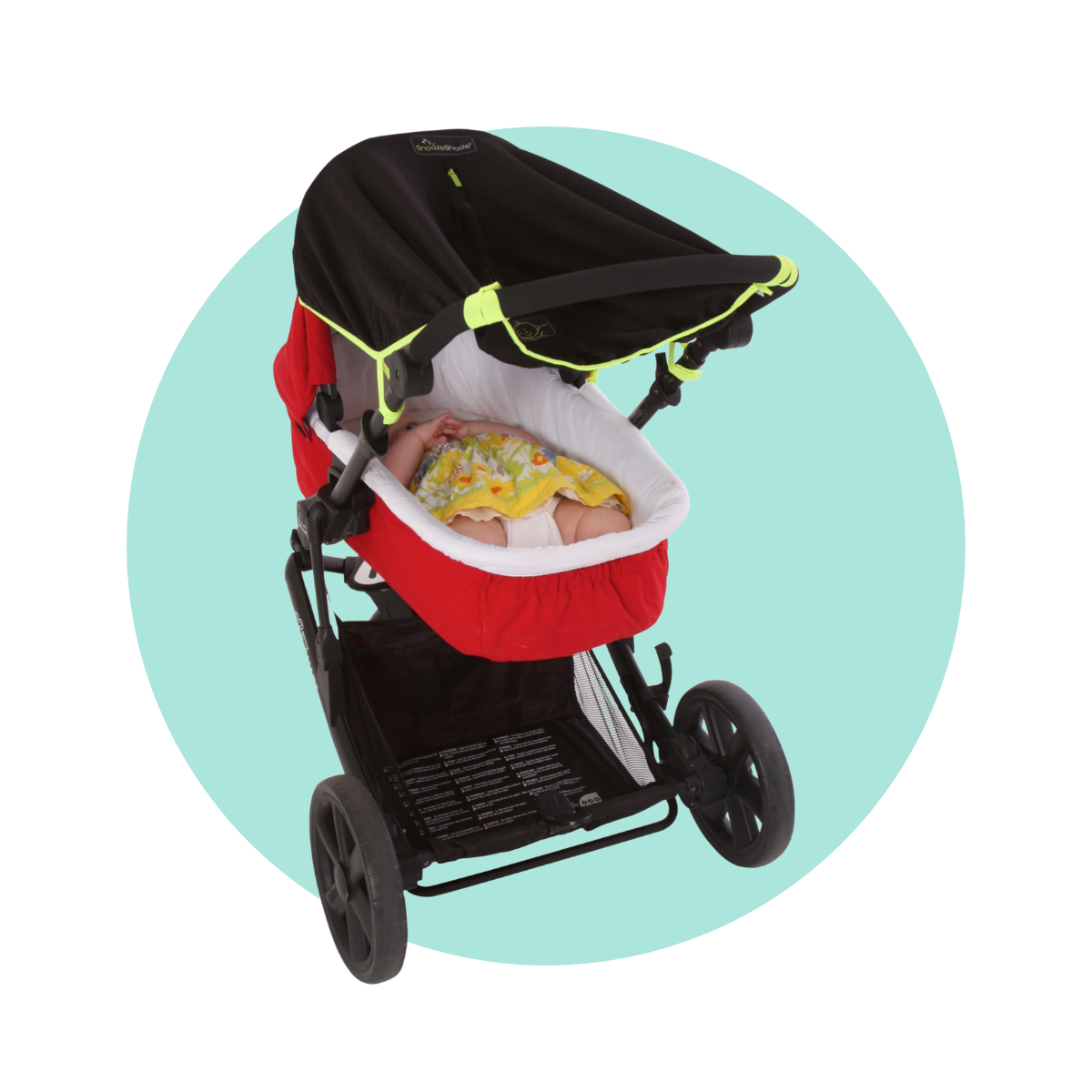 "But can't I just drape a blanket over the pram?"
That, right there, is one of the main reasons SnoozeShade founder Cara invented this game-changing product.
Cara invented SnoozeShade for her own precious baby, Holly, who was a champion dodger of pram naps. Refusing to be confined to the house every day, Cara looked for a solution and soon learned that draping a muslin/blanket/coat over a pram is simply not safe for any length of time, because those kinds of fabrics do not let air circulate freely.
To say Cara is safety-obsessed is an understatement, so that's why you can count on SnoozeShade not only to transform your baby's daytime naps, but to keep them safe in more ways than one.
Better than breathable
Unlike a blanket or muslin, our mesh fabric has been independently tested and proven to be air permeable – which means air passes through it easily.

There is no danger that your baby's ability to breathe will be affected. In fact, if you hold a SnoozeShade up to your face you'll see you can breathe comfortably (now try that with a blanket, coat or muslin).

Our fabric and design features match advice from The Lullaby Trust on safer sleep and pram coverings.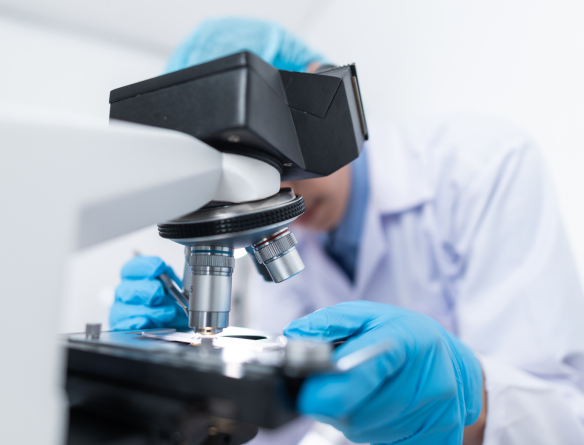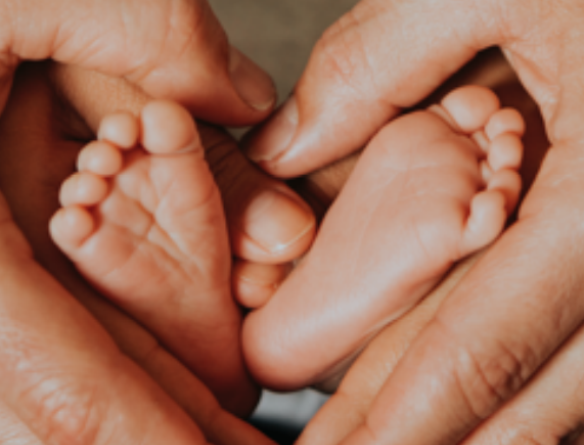 Every part is safe enough for a newborn
A product like SnoozeShade is only required by law to be safe enough for a three-year-old, because the product is actually being used by the parent, not the child.

But that isn't safe enough for Cara

Every SnoozeShade is designed to meet the same European regulations as a toy for a newborn baby – the highest standard possible – and our safety features include the following:
Short straps that pose no risk of strangulation or entrapment
Strong zips that won't break – even under heavy loads
Absolutely no toxic nasties in our fabric or any component
Non-flammable fabric
UPF 50+ protection
Babies under six months must be kept completely out of direct sunlight to protect their delicate skin and eyes.

SnoozeShade Original blocks 99% of the sun's harmful UVA and UVB rays, keeping your little one safely shaded while you're out and about.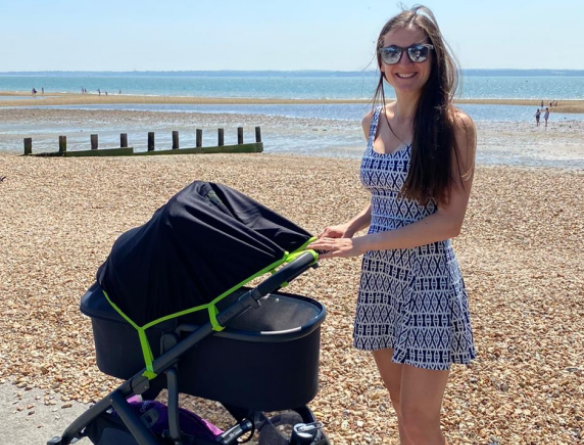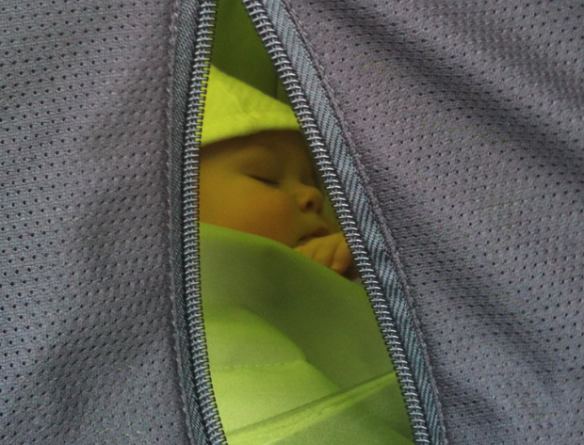 Sneak-a-peek zip
No product on earth can replace parental supervision to keep your baby safe.

That's why all SnoozeShade products feature a sneak-a-peek zip, so you can easily check on your sleeping beauty without letting in too much light.
99% of our customers would recommend
SnoozeShade to a friend!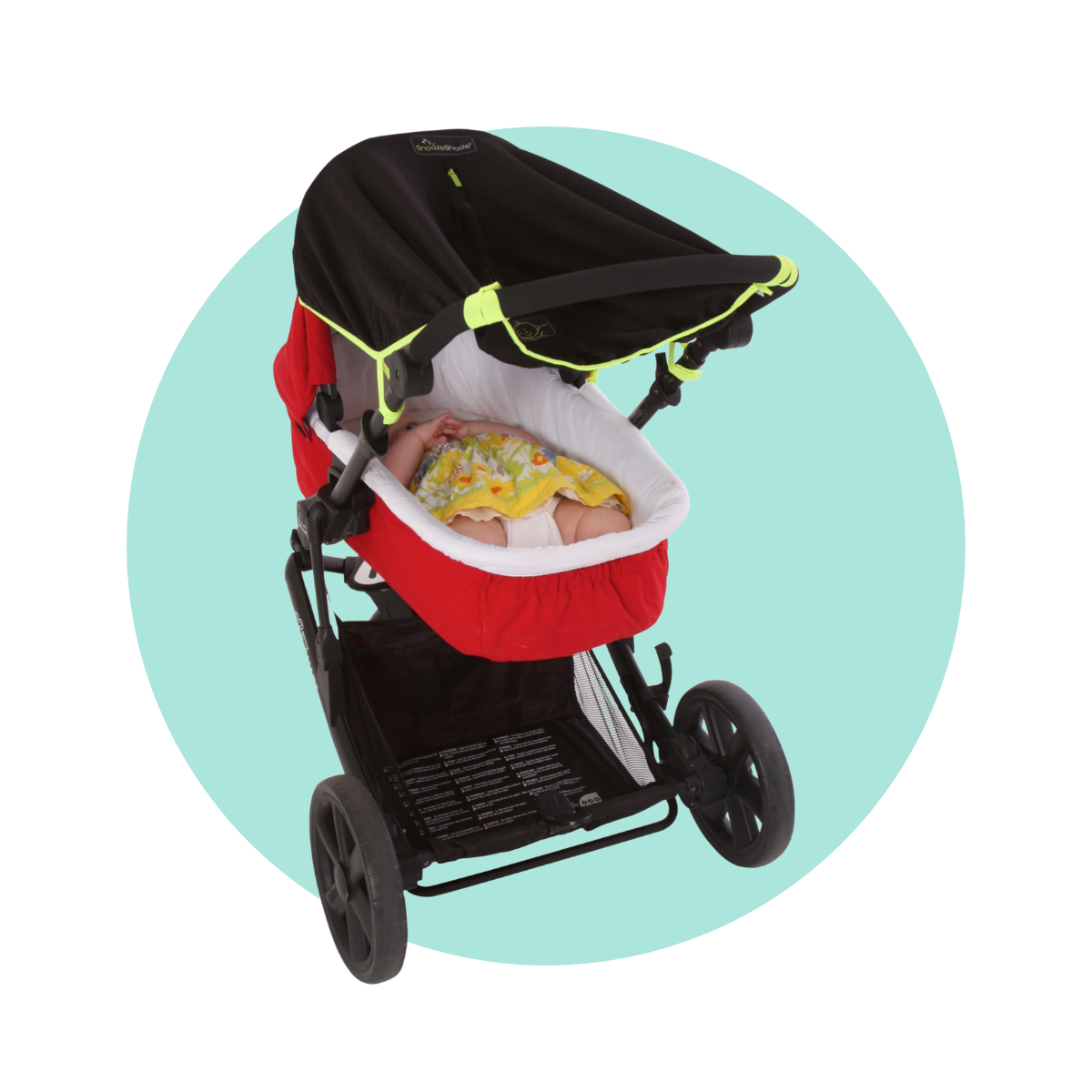 Nap times have been revolutionised!
"We use our buggy bassinet for nap times (even in the house) and our 11-week-old has started doing really long naps since we got the SnoozeShade. It's just brilliant. She sleeps in our room and with the SnoozeShade on I can keep the curtains open and sort the washing etc in the room while she's in there. I'm thinking about getting the shade for the travel cot too for when she's a bit bigger. We also used it over the car seat on a long journey recently which worked well."
–Flora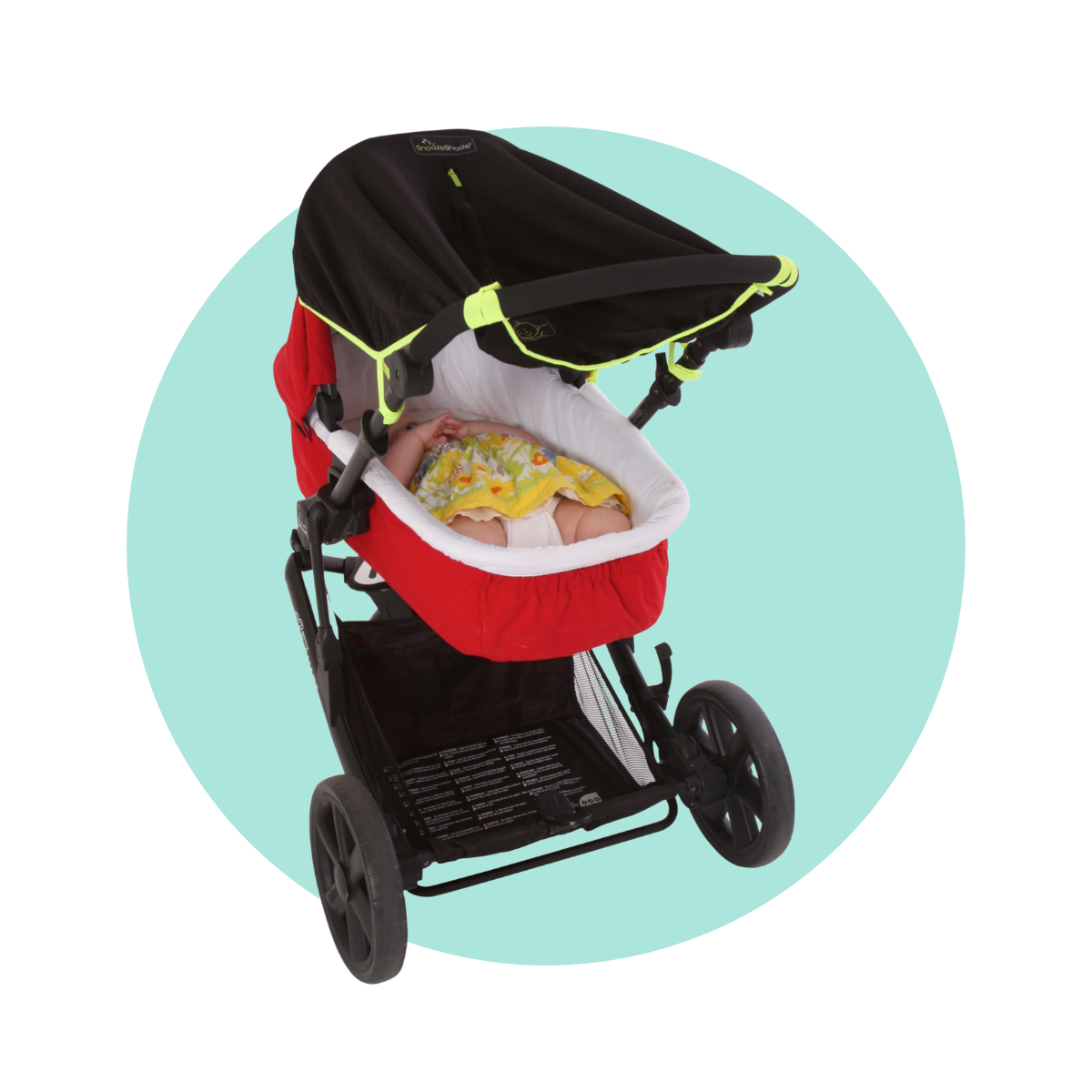 One happy (sleepy) little dude!
"My baby used to struggle to get off to sleep when we were out walking, but with his SnoozeShade he definitely sleeps quicker and for longer."
–Michele Walker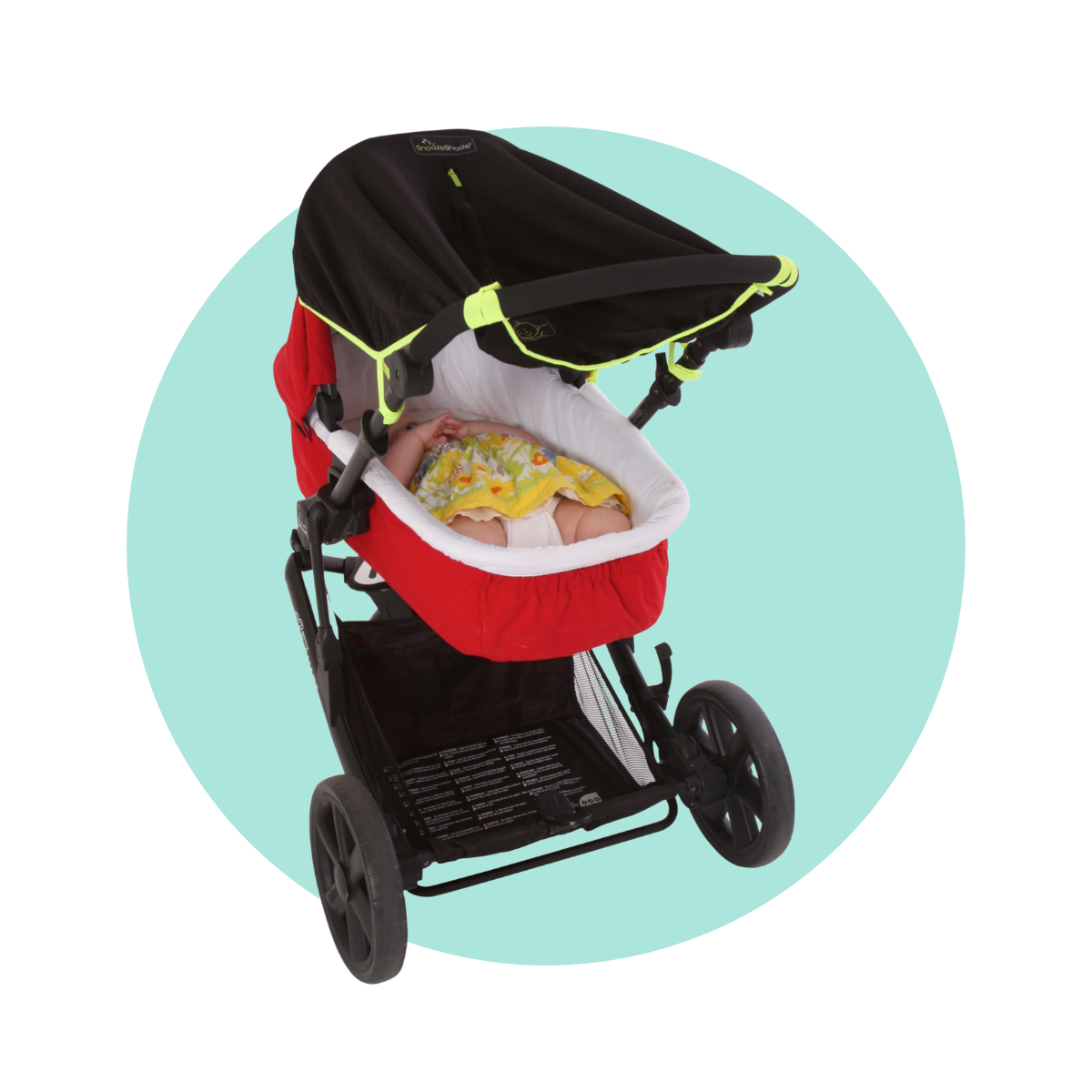 An absolute must have
"Saw another mum with this and decided to buy. Haven't looked back since! My little one used to hate the buggy /car seat etc, but as soon as I pop this on he calms down and falls asleep. It's great how cool the environment stays inside as well. We've used in hot weather and direct sunlight and it stays nice and cool inside. A MUST buy for all parents."
–Rhianna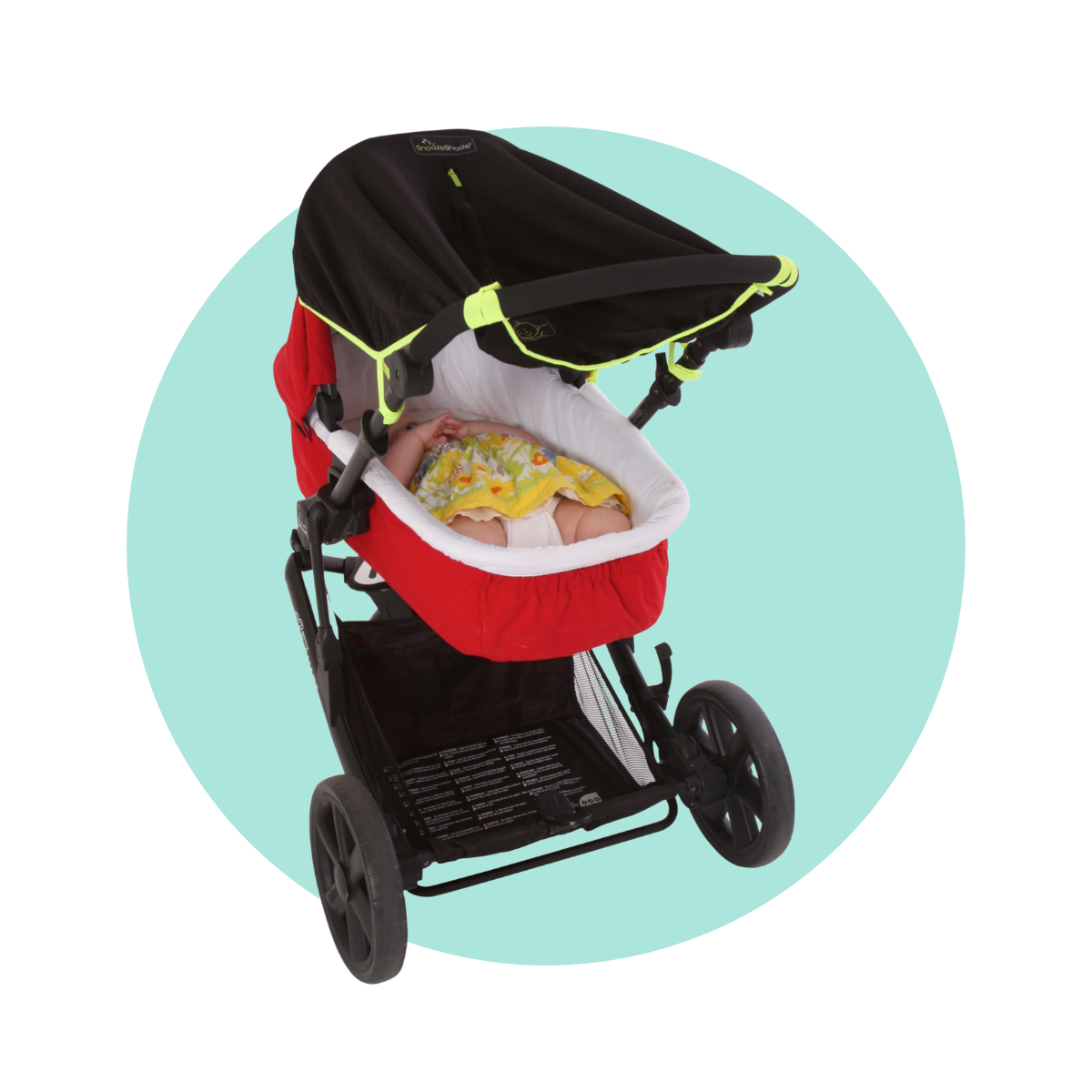 Amazing!!
"This was an absolute game changer for us. When needing baby to nap when out and about (but not always moving) this saved us! This with some white noise was great for when we were on holiday, especially when we were in noisier, brighter situations. Just brilliant!"
–Sian Evans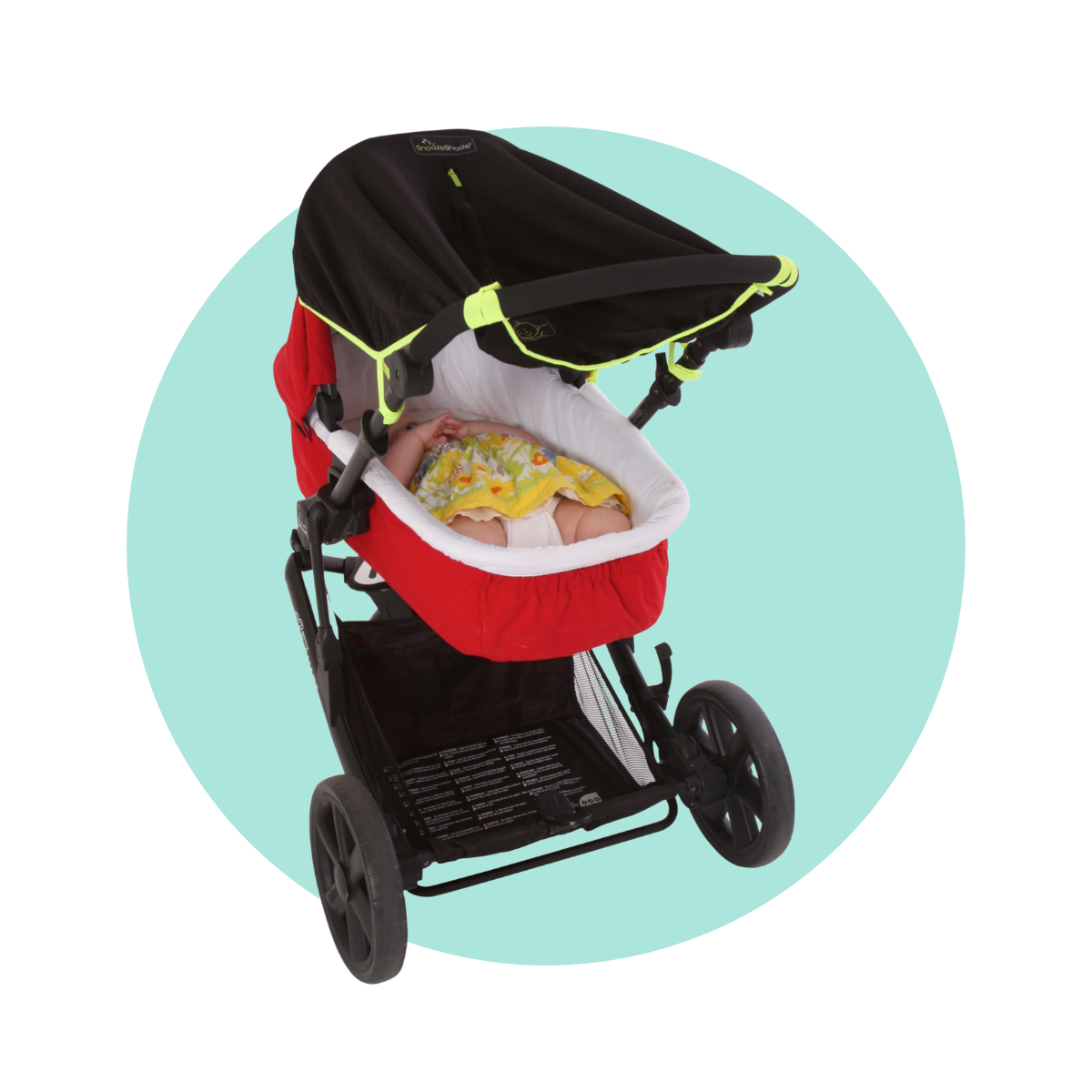 A million stars!!
"This is by far the best thing I've ever bought!! I can finally stop worrying about the sun getting to my baby when out and about, and he can sleep without it disturbing him. I've recommended this to all my mumma friends."
–Kelly
FREE two-year warranty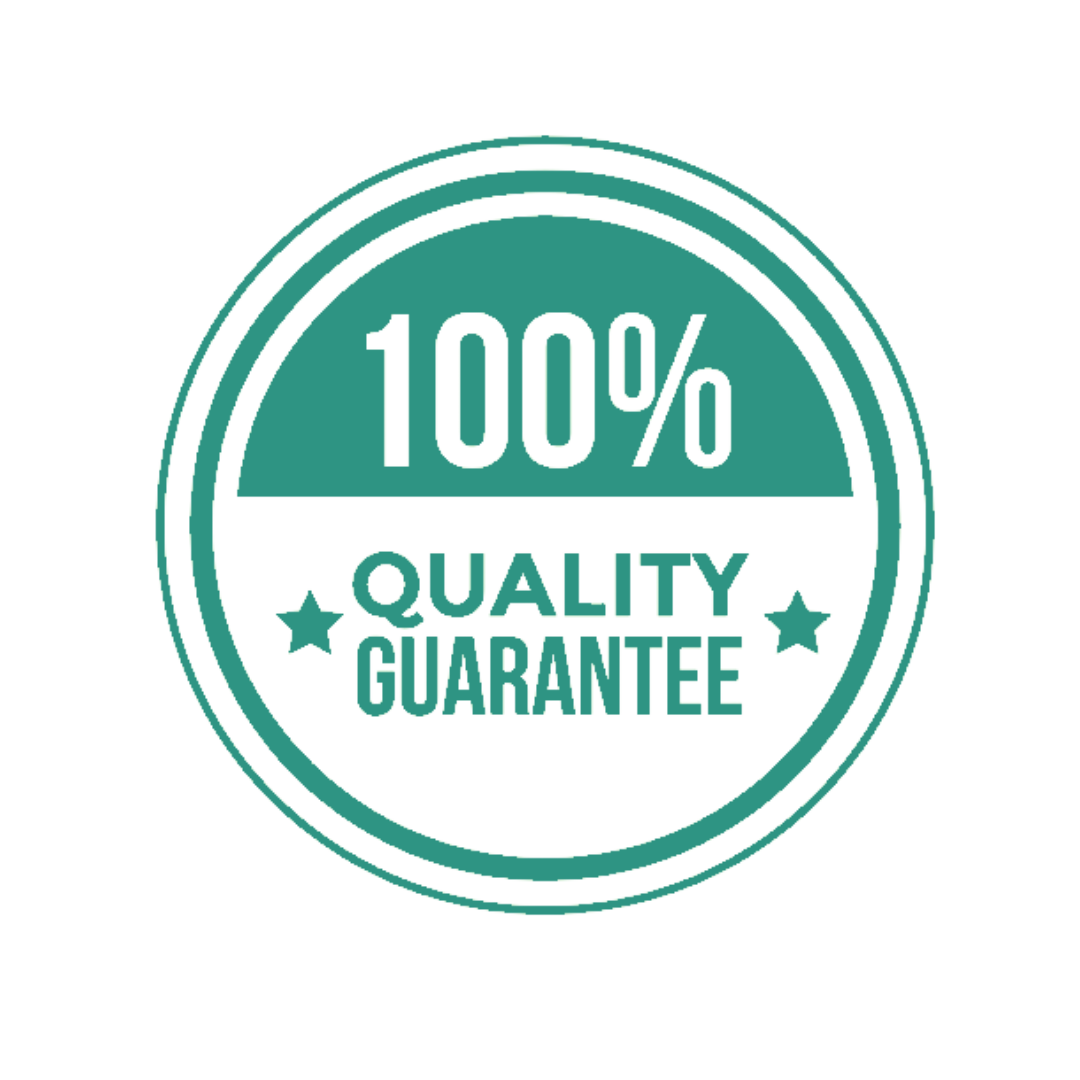 It's extremely rare that SnoozeShade products develop a fault.

But if the unexpected should occur, you have the peace of mind of our standard one-year warranty. And you can also choose to extend it to two years absolutely FREE!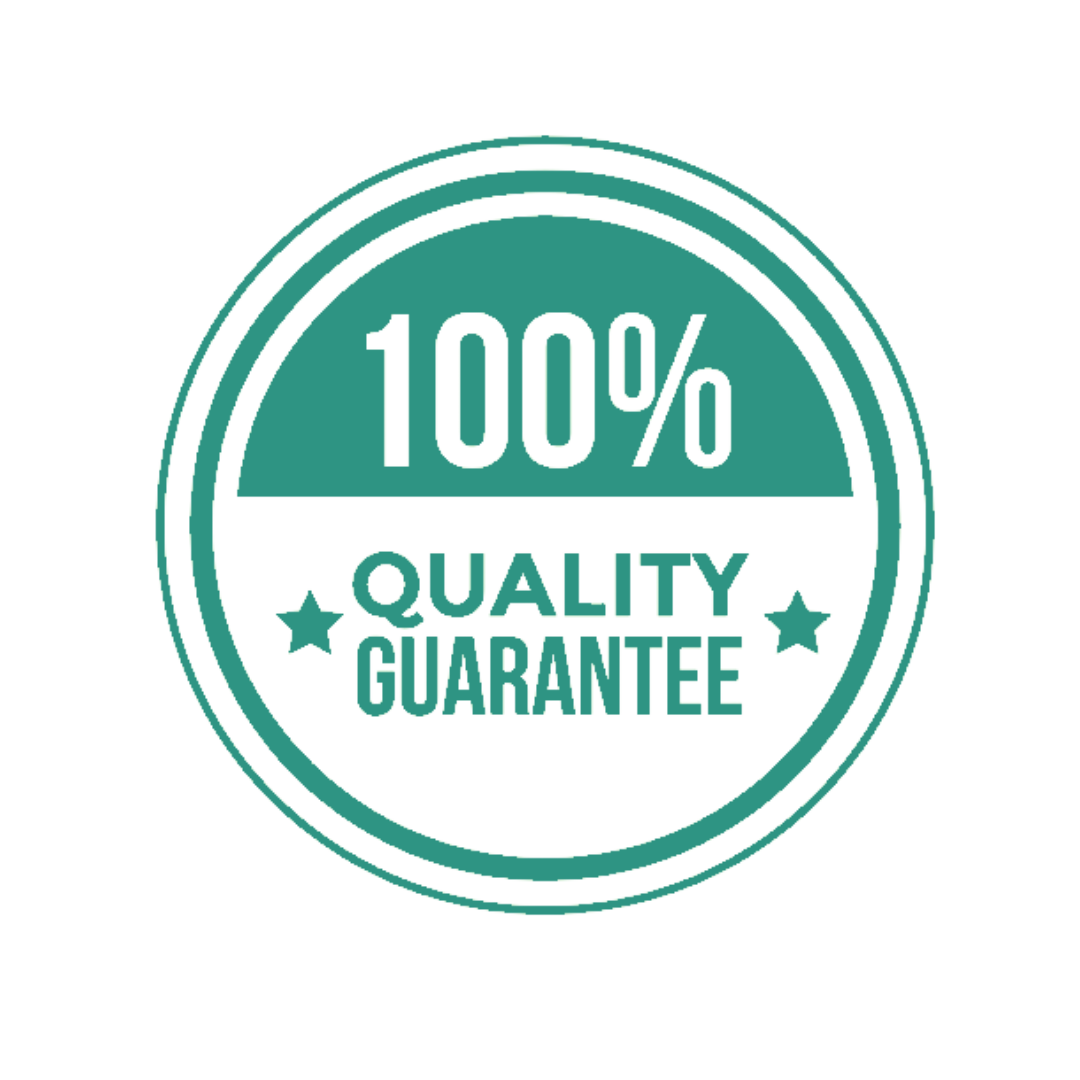 FREQUENTLY ASKED QUESTIONS
Here you'll find Cara's answers to some of our most-received questions, but if there's anything else you'd like to know please reach out – we'd be delighted to help.
How does using SnoozeShade help my baby and I?
SnoozeShade is like a portable blackout blind for families on the go, allowing you to get out and about while still maintaining your baby's sleep routine.

It's the only baby sunshade of its kind to be endorsed by international baby-sleep experts, be approved by the Melanoma International Foundation, and to have won more than 80 awards – including Mother & Baby Gold for Innovation, Dadsnet Gold and Made for Mums Gold.

Cara says: "Until I invented SnoozeShade, the only option for parents was to throw makeshift items like blankets or muslins over the pushchair. These aren't always made of air-permeable fabric, don't provide sun protection and may simply fly off at the slightest breeze. You also have to lift them to check on your baby, letting in light that wakes them up."

• SnoozeShade becomes a 'sleep trigger' for babies – like a bedtime routine or closing the curtains in the nursery. Your baby starts to recognise that when SnoozeShade goes on, it's time to sleep.

• SnoozeShade removes the external distractions that stop your baby getting to sleep. It creates a cosy, comfortable and healthy nap environment – wherever you are.

• Deeper, longer sleep with no interruptions means your baby gets the sleep they need – and we all know that a well-rested, happy baby means everyone in the family has an easier time!

• Many parents also use SnoozeShade to prevent well-meaning people from touching and disturbing their sleeping baby.
SnoozeShade & safety testing
I invented SnoozeShade to use with my own daughter, which means safety has always been my number one priority.

For me, safety comes first above all else, and I am proud that SnoozeShade is a 'function over fashion' product. I won't compromise on safety and I put SnoozeShade through regular and rigorous safety testing – including tests that aren't compulsory. Head to our blog to find out more.

Why is SnoozeShade black, doesn't that attract heat?
The colour of a fabric has little to do with how hot it gets, but there are lots of great reasons why our fabric looks the way that it does:

• SnoozeShade is made from air-permeable mesh with lots of small holes that allow fresh air to circulate easily

• SnoozeShade's fabric has been tested multiple times by well-respected, independent laboratories and scores highly for air permeability

• Black is the best colour for UV protection, as it blocks the most UV rays. This means our fabric doesn't need any chemical treatment

To find out more about how SnoozeShade's fabric keeps your baby protected and happy, read this piece, which we wrote with the help of one of the UK's leading thermal physicists to explain the science behind the 'colour and heat' question.
What is breathable fabric?
Our unique fabric is actually better than breathable. It's air permeable.

The term breathability is often used incorrectly. It's actually a term that refers to how well a fabric wicks moisture away from the skin, which is why it's often used to describe sportswear. Air-permeability is all about how easily air moves through something.

A fabric that's 'breathable' is not necessarily air-permeable. For your baby to be safe beneath a sunshade it MUST be made from air-permeable fabric. Avoid cheap copies and buy the safety-tested best.

I'm also proud to say that a new test for suffocation and CO2 rebreathing was developed and our mesh fabric passed both tests with flying colours!
What sun protection does SnoozeShade provide?
The black SnoozeShades in our collection give maximum sun protection, blocking 99% of UVA and UVB rays, with a rating of UPF50+.

The silver Deluxe range blocks up to 97.5% of UVA and UVB, with a rating of UPF40+.

Our fabric is darker than others on the market because SnoozeShade offers the highest level of sun protection and is approved by the Melanoma International Foundation.

While other sunshades claim to offer UPF50+ protection, many have transparent panels. This won't offer the same level of sun protection, as UV rays can get in. Remember, if you can clearly see your baby through the fabric, so can the sun!

Our fabric is completely unique to us and has been independently scientifically tested, scoring highly for air permeability, which means air flows freely through it and your little one is completely safe underneath it.

Our clever child-safe zippers allow you to check on your baby frequently without letting in too much light or exposing them to the sun.